I've been working on trying to create my own office here in the house. Of course, it would be easier if we had an actual room I could use, but that's just not in the cards right now. Working from home has it's perks, but I think it's important to define an actual office space and use it for such.
Of course, everyone's home office is going to be different, but there are some elements that can make it a more productive space regardless of the size and layout of your space!
Great Lighting
If you can, choose a room that has great natural light throughout the day with lots of windows! If that's not an option, make sure you have lamps with daylight bulbs. It's great for your mood!
A Desk
In your office, you'll need a desk! I love an L-shaped desk, which is perfect for tucking into a corner. If you'd prefer something smaller, maybe grab a floating desk or a simple study desk.
A Comfortable Chair
And to use your new desk, you're going to want a chair. I think the chairs with mesh back are great for keeping you cool and comfortable.
A Phone
I know we all have cell phones now, but sometimes it's nice to use a real phone! Remember what that feels like?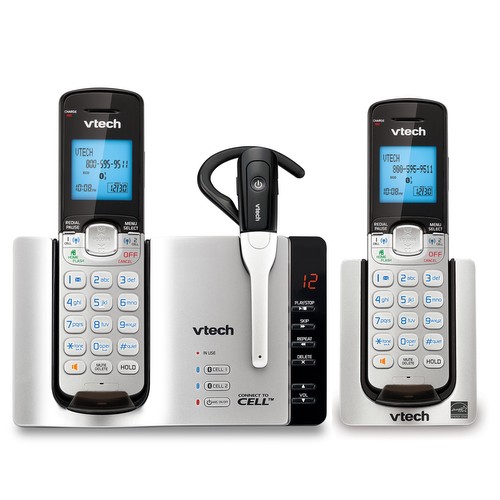 The 2 Handset Connect to Cell™ Answering System with Cordless Headset from VTech is just the answer! With this system, work-from-home individuals can make and receive cell calls straight from their home phone – without the cost of having a landline service! So if you're a cellphone-only household you can benefit from the landline features without signing up for a landline service.
VTech's Connect to Cell can pair up to two cellular lines and one landline, so you can keep your work life and personal life completely separate and even set up personalize ringtones for each line!
Good-bye dead signal zones. Never miss important details on a business call again, with Connect to Cell you can leverage your home's strongest cellular connection by placing the phone system's base unit where reception is best and then enjoy the freedom to make and receive cell calls using your cordless handsets anywhere in your home.
Equipped with a DECT 6.0 cordless headset, you can make hands-free calls anywhere from your home and home-office.
Fun Stuff to suit your Personality
This is your office, but it is in your home. Let your personality shine through the cool things on your desk.
Have your kids add to the artwork in the room. it's a great way to sneak some home into your home office!
Alarm Clock
It's hard to find that work-life balance when you work from home. Set alarms when you need to, like waking up in the morning (if you don't have kids to do that for you), when your work should start and end, time to spend on a specific task, or even a lunch break.
Music
In a busy house with little ones, there is always something going on. Music is a great way to drown out some of that noise and keep you focused on the work in your office. You can stream music online or use a radio.
A Safe
In our house, we store all of our important documents like birth certificates, passports, and things like that in our safe. If you get a larger one, you could store expensive equipment (laptops, game systems) here when you head out for a few days.
Filing System
If you're working from home, you'll need a place to store all of your important stuff in an organized way. You can use a filing cabinet for everything or you can use a smaller file organizer and scan everything to keep digital copies.
If you choose to not keep everything, after scanning them, run your documents through a shredder. You don't need all of your personal information floating around in the trash.
The Fellowes Powershred® M-12C Cross-Cut Shredder provides active shredder safety technology for the small office. Not only can it shred 12 sheets per pass, but it will safely shred credit cards, paper clips, and staples! And, for those of us with little ones at home, this is a big selling point for me: SafeSense® Technology stops shredding when hands touch the paper opening!
Plants
I love being able to bring the outdoors inside. I think it brightens a room up and really improves the overall mood. Add a plant or two, nothing too crazy or needy (unless that's your thing) and use them to break up the monotony of the office.
A Good Printer
Even if you don't need to print a ton of things on a regular basis, it seems you always need to print something! Honestly, even if all you are printing is coloring or activity sheets for your kids, you still need a good printer. I recommend the HP Envy 5540 Wireless All-in-One Printer.
I love the Instant Ink option that is available for this printer! It ensures that I never run out of ink. With monthly fees as low as $2.99, you will definitely save with this! No more late night ink runs to the store to print out a project that's due in the morning! Use this link to sign-up for Instant Ink and you'll receive a free month!
Something to entertain the kids
If you work from home, you know the kids are going to wind up in your office. Give them something to do. I'm in love with these collapsible storage bins! They're perfect for tossing toys in for the kids.
You could use these toys and activities solely for when Mommy or Daddy is working. Then they'll be special toys, making them even better!
What are some of your favorite things in your home office?