After almost two weeks with the stomach bug visiting our house, I think we're finally on the other side of it. The past few days have been beautiful and we've been taking advantage of it! This weekend we're hosting family at our house for my mother-in-law's birthday and all the kids can run around and play like crazy!
We're back with another week of meals to help you get dinner on the table.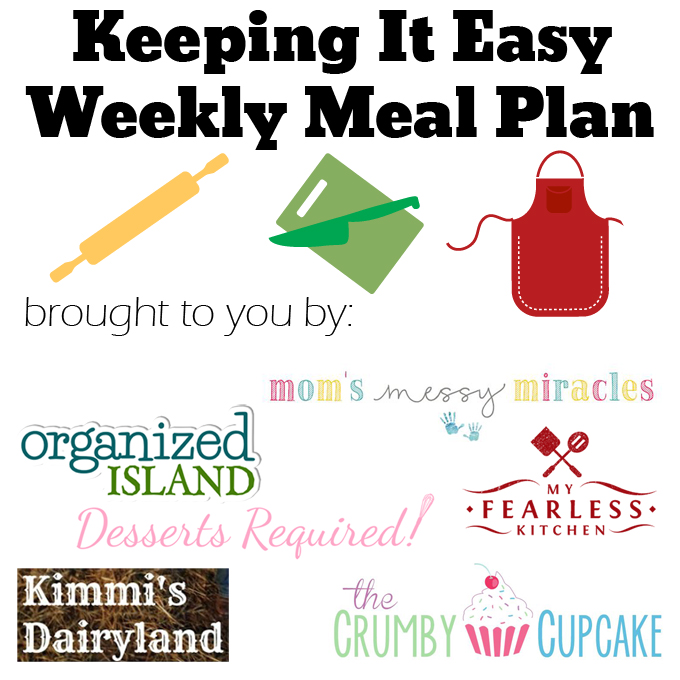 Start the week off right with this Slow Cooker Spiced Peach Oatmeal from My Fearless Kitchen for breakfast. Set it up in your slow cooker Sunday night, and breakfast will be ready on Monday morning!


Make Monday a little more fun with these yummy Maple Baked Chicken Bites from Mom's Messy Miracles.


Treat yourself on Tuesday with these beautiful Parmesan Crusted Pork Chops from Kimmi's Dairyland.


Have a little fun on hump day, and let your kids help make these Cheeseburger Cups from My Fearless Kitchen.


Make this Savory Pot Roast from Organized Island on Thursday, and you'll have plenty of leftovers for the weekend!


Who says you can't have breakfast for dinner? This Supreme Breakfast Pizza from The Crumby Cupcake will be a hit on pizza night!


I am swooning over this dessert… Orange Creamsicle Cheesecake from Desserts Required sounds like a divine end to a long week!


Take the weekend off, enjoy your leftovers, or eat out. We'll be testing more recipes for you in our own kitchens!