This shop has been compensated by Collective Bias, Inc. and its advertiser. All opinions are mine alone. #GoldfishLunchSmiles #CollectiveBias
School is coming soon for us, but I know several areas are already back in session for the new year. That means we're hitting up Walmart for our back-to-school supplies!
Going back to school and the start of a new routine can be an uncertain time for families. Moms know that we can't control everything that happens to our littles during their school day, but if I can do something simple to cheer him up once he's home – that's a big win for me!
To make our new after school routine a bit easier, I'm busting out the snacks! We all know everyone feels more open to talking over food, right?
Interested in finding these Goldfish® crackers for your family? Hover over the photo below to click through to Walmart.com and buy them!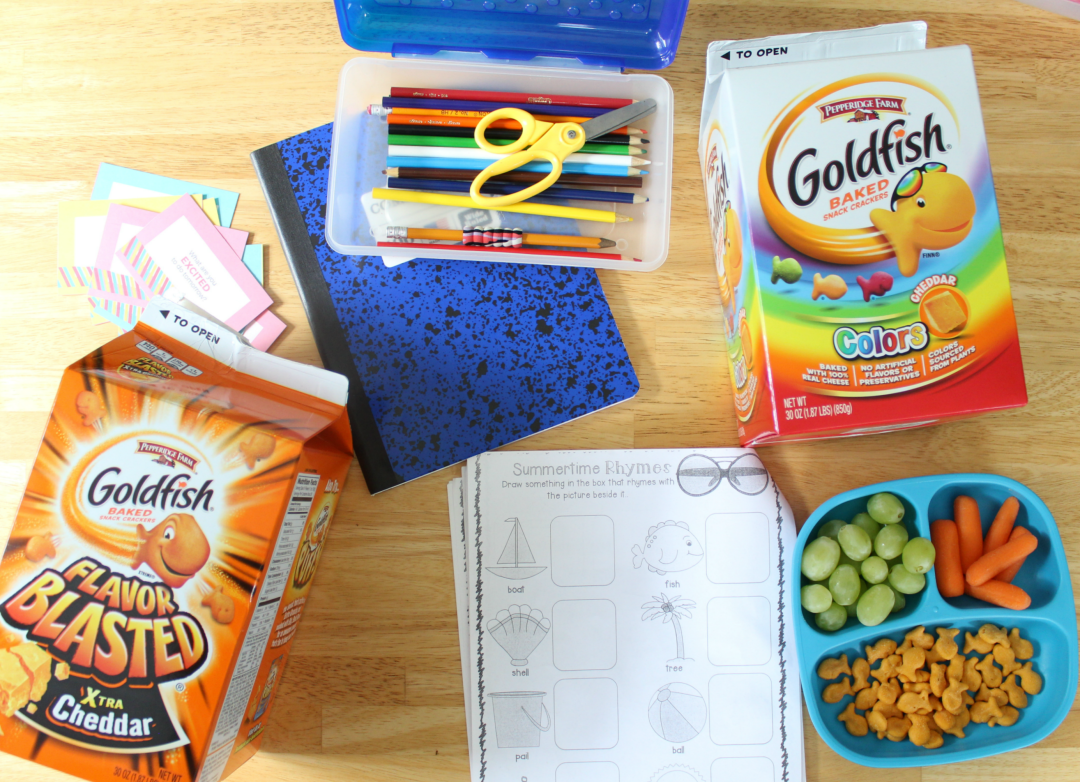 To purchase the produce featured in the image above, find a Walmart near you!
Goldfish® crackers are pretty much an essential in our house. They definitely bring out the smiles! They're a great product all the time, but with the bulk carton rollback pricing of $5.98, I stocked up for sure!
While in Walmart, we also grabbed plenty of fresh produce. I love being able to throw some grapes, baby carrots, and Goldfish® crackers on a plate for the perfect afterschool snack.
Charlie did not have much homework last year in Kindergarten (what a blessing!), but I'm sure it's coming this year in 1st grade. He even had quite the packet to do during the summer.
Armed with that awesome snack plate, it's time to get that homework done!
Last year, Charlie was less than chatty when he came home from school. This year, I'm combating that with our new after school routine. For some of you, the "how was your day" question may work – but I know that for many it gets a quick response and the kid just be-bops away. Don't worry! I have some great questions for you to get your kid chatting so you can really sit down and connect when they get home from school.
Just print out our Afterschool Conversation Starter Cards and connect with your child while they get their homework done. Whether they need your guidance the entire time or just need you to check it before packing it away, you should still take the time to connect a bit.
I am super excited about all of our conversations that I'll have with my big-kid this year after he comes home from school. I'm excited to help him homework and watch him grow and learn. These are the little moments I'll remember when he's too cool to hang out with Mom.
Get more back to school inspiration with Goldfish® crackers here.